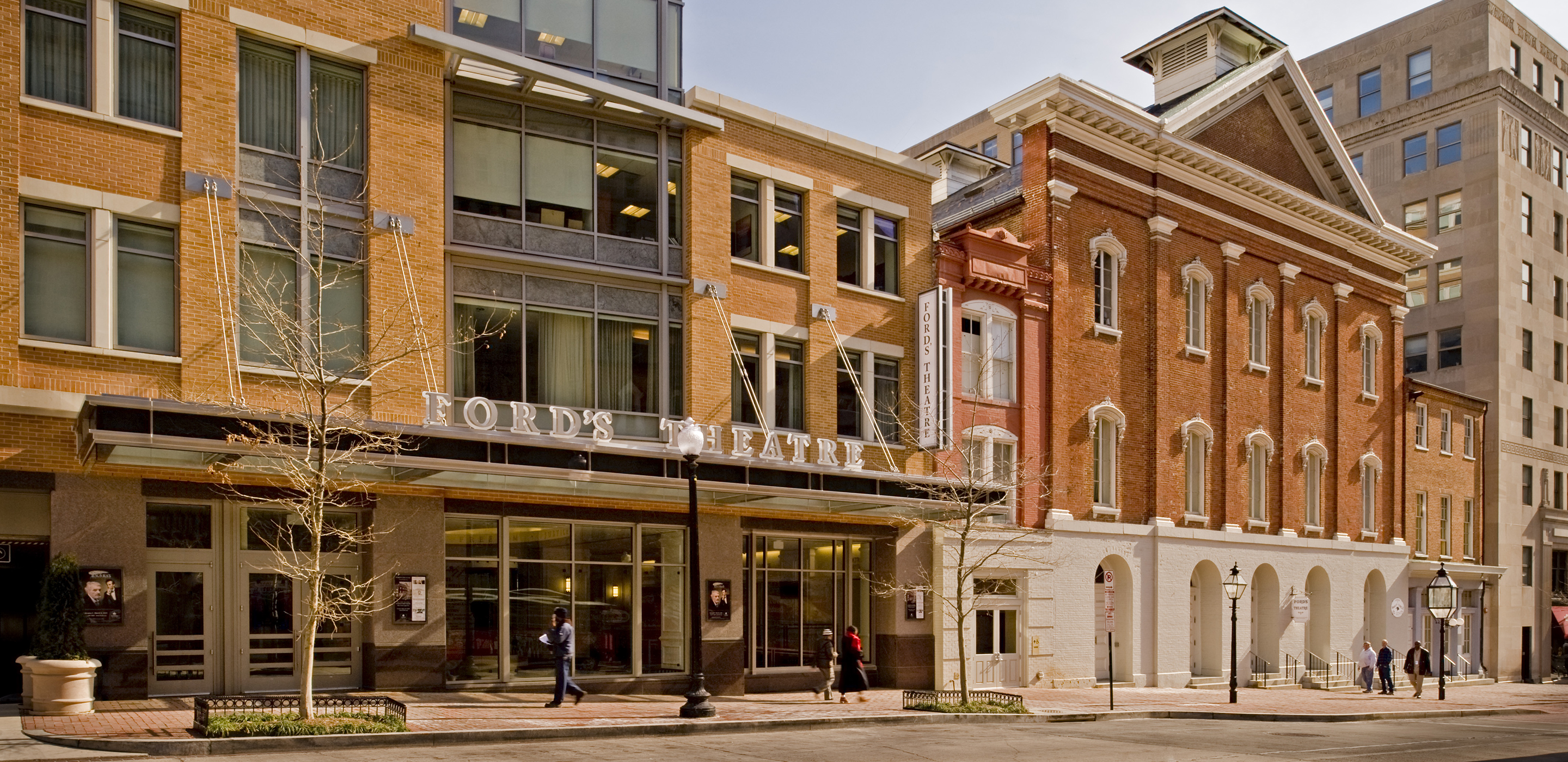 Historic Site Visit
The site of President Abraham Lincoln's assassination.
Open Daily
Approximately 2 – 3 hours
Advances Tickets Recommended
Tickets to visit Ford's Theatre and Museum through August 31, 2023, are now on sale. Our visitation schedule varies from week to week; be sure to check our calendar when planning your visit.
Visit Ford's Theatre and step back in time. While at our historic site, you will learn about the events of April 14, 1865, and the lasting impact of Lincoln's assassination on our nation. We are a popular Washington, D.C., tourist destination and welcome more than 650,000 visitors a year.
We have timed-entry every half hour. The Theatre is not included in every ticket. Certain entries only include visits to the Petersen House and Aftermath Exhibits.
An Acoustiguide is an additional $5/guide. This pre-recorded audio tour provides additional content and historical background. Youth and adult versions available
For more tips and planning your visit, visit our Plan Your Visit section.
Same Day Tickets
Unable to book tickets to tour the Historic Site at the time you want to come? Same-day tickets are available in person at the box office on a first-come, first-served basis. Please call 202-347-4833 on the day of your visit for more information on current availability.
Group Visits to the Historic Site
Bring your group of 20 or more to visit Ford's Theatre in Washington, D.C., the site of President Abraham Lincoln's assassination.
Museum
Explore exhibits on Lincoln's presidency, Civil War milestones and the assassination conspiracy led by John Wilkes Booth.
Open Daily
Museum is self-guided.
Approximately 30 minutes
Advances Tickets Recommended
Learn about the Civil War, Lincoln's presidency and his assassination.
In our museum, you can view exhibits that follow Abraham Lincoln from the beginning of his presidency to the moments leading up to his assassination. Learn about his life in the White House, the struggles he faced during the Civil War, and his meetings with abolitionist Frederick Douglass. You will also learn about actor John Wilkes Booth, the roots of his hatred toward Lincoln, and the group of people who joined his conspiracy to dismantle the United States government.
The museum features artifacts related to the assassination, including the weapons Booth used.
Theatre
Go inside the historic theatre and learn about the night of the assassination.
Open Daily
The interior of the President's Box is closed to the public to protect it from damage.
A ranger will be present to answer questions.
On the night of April 14, 1865, actor and Confederate sympathizer John Wilkes Booth sneaked into the Presidential Box and shot President Abraham Lincoln. Today, the theatre looks very much the way it did that fateful night. The President's Box is decorated with an American flag and a portrait of President George Washington, just as it was in 1865.
The interior of the President's Box is closed to the public to protect it from damage.
Take a Virtual Tour of Ford's Theatre
Go on a virtual tour of Ford's Theatre. See inside the Presidential Box and learn more about the events of April 14, 1865.
Petersen House
See the house where President Lincoln died and learn about the people who gathered around him that fateful night.
Open Daily
Advances Tickets Recommended
On April 14, 1865, after John Wilkes Booth shot President Lincoln, Lincoln was carried out of the theatre and into a boarding house across the street. The celebratory night quickly turned into an overnight vigil as people gathered outside the house. The doctor at Lincoln's bedside updated the crowd each hour on the president's condition. His final update came at 7:22 a.m. on April 15, 1865: the president had died.
During the president's final hours, he was surrounded by his wife, Mary, and various U.S. government officials. Secretary of War Edwin Stanton turned one of the rooms into an interrogation area, interviewing witnesses about what happened inside the theatre.
Virtual Exhibit: History of the Peterson House
Discover the history of the Petersen House from 1849 to today. Known as the house where Lincoln died, the Petersen House changed from a family home into a museum and is now a historic site.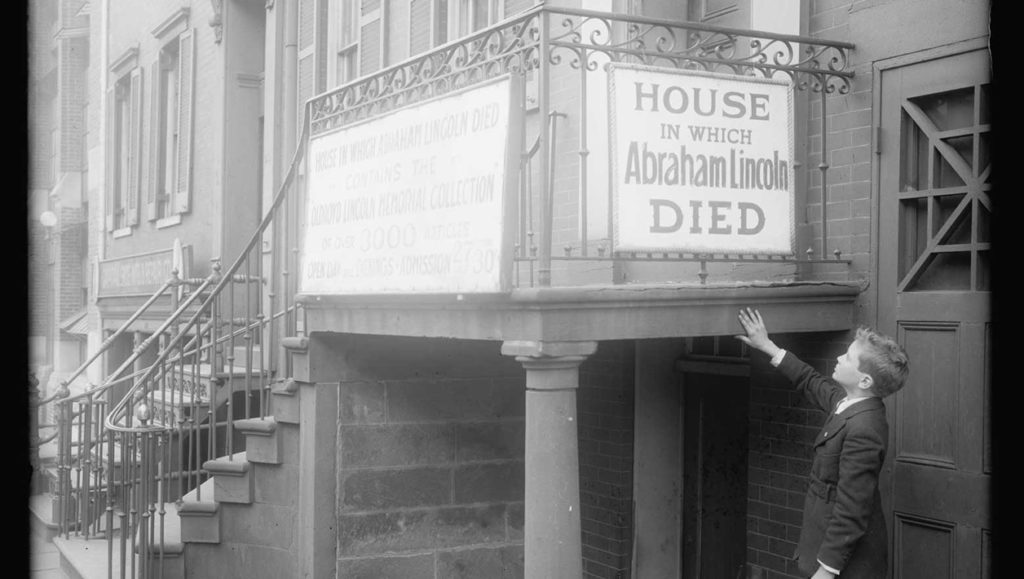 Aftermath Exhibits
Learn about the hunt for John Wilkes Booth, follow Lincoln's funeral train and witness a nation in mourning.
Open Daily
Advances Tickets Recommended
The Aftermath Exhibits take you to a Washington street the morning after Lincoln's assassination. Follow Lincoln's funeral train back to his hometown in Springfield, Illinois. In an interactive exhibit, learn about the crowds that gathered to mourn the president each time the train stopped.
As Lincoln's body traveled back to Illinois, authorities hunted for John Wilkes Booth. In our exhibits, follow the 12-day manhunt for Booth and learn about his capture in Virginia. Learn about the trial and fate of Booth's co-conspirators.
Our exhibits also explore the impact of Lincoln's life and death on America and across the world. See how he has inspired leaders and view artifacts that show his evolution into a pop culture icon.
Artifacts On Display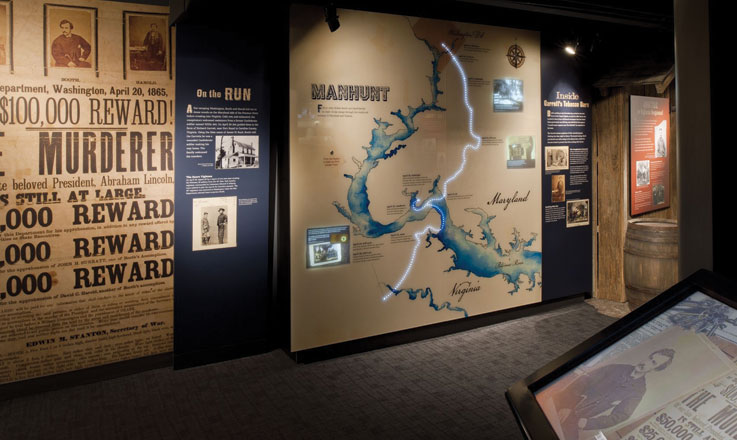 Follow the path John Wilkes Booth took on his 12-day escape and the barn where he was shot by Boston Corbett. Photo © Maxwell MacKenzie.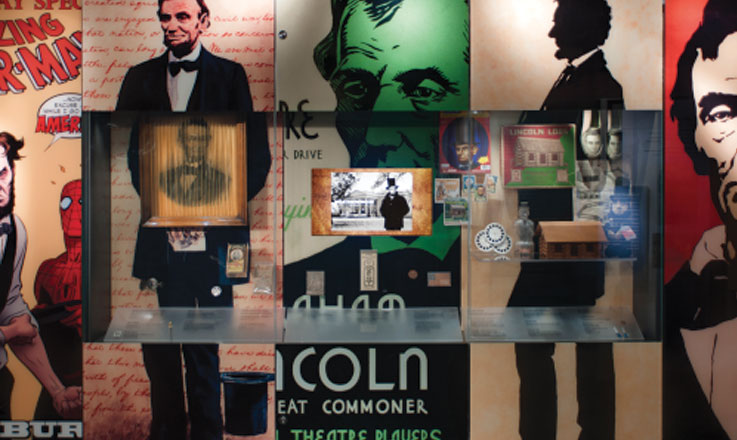 View pop culture references to Abraham Lincoln and discover how his Legacy is remembered. Photo © Maxwell MacKenzie.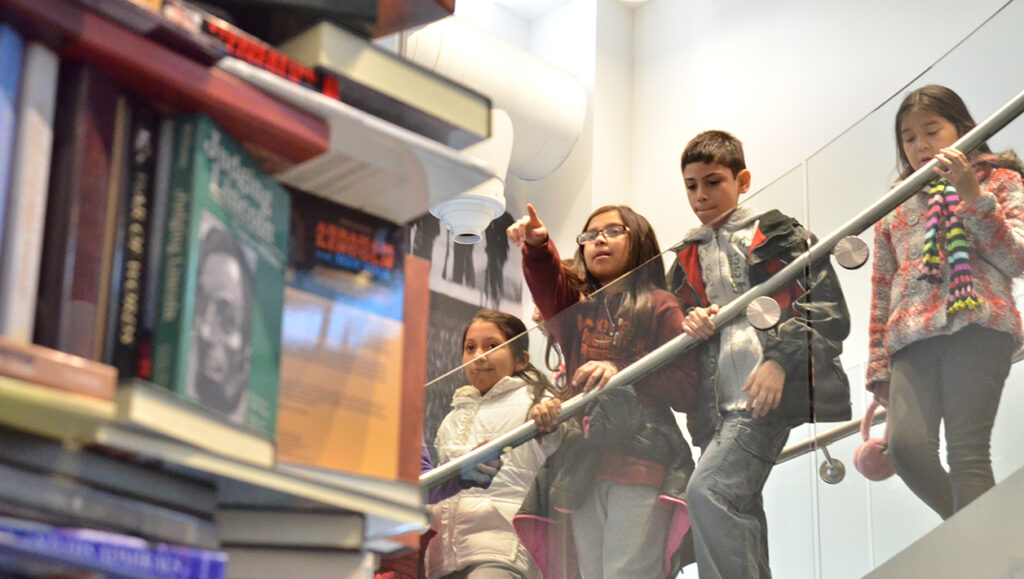 Our 34-foot art installation book tower including over 15,000 books written about Abraham Lincoln.
View our staggering 34-foot book tower.